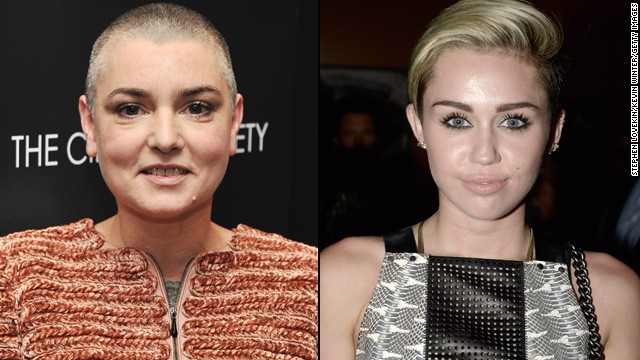 For Sinead O'Connor, the pen is truly mightier than the sword.
By now, the singer has written not one, not two, but three open letters to Miley Cyrus, with the latest threatening legal action against the pop star.
Cyrus hasn't been as verbal as O'Connor, but she hasn't been silent, either - it seems the last two open letters were crafted in response to some of Cyrus' tweets.
It all started with O'Connor's initial open letter, which the "Nothing Compares 2 U" singer said was prompted by reporters asking her to comment on Cyrus' "Wrecking Ball" video. (In the controversial clip, Cyrus seems to draw inspiration from some of the scenes in the "Nothing Compares 2 U" video, and O'Connor wrote that the press wanted her to respond.)
While she didn't speak on any similarities between the two clips, O'Connor did express concern for Cyrus, who swings around on a wrecking ball in her own video, sometimes while in the nude.
"I am extremely concerned for you that those around you have led you to believe, or encouraged you in your own belief, that it is in any way 'cool' to be naked and licking sledgehammers in your videos," O'Connor wrote in her first letter. "It is in fact the case that you will obscure your talent by allowing yourself to be pimped, whether it's the music business or yourself doing the pimping."